President - Larry Hale

Vice-President - Ronald Bishop

Recording Secretary - Jim Ellerd

Financial Secretary - Bill Blassingame

Abilene Chair Person - William Browning

Breckenridge Chair Person - Tim Haynes

Colorado City Chair Person - Clarence Freeman

Snyder Chair Person - Mark Roth

Trustee - Brandon Herron (1 year)

Trustee - Pearl Minor (2 years)

Trustee - Oscar Cedillo (3 years)

Meetings
Colorado City Chapter
Wallace and Ware Units - No meetings scheduled till further notice. Searching for a permanent place to hold meetings.
Abilene Chapter
Middleton and Robertson Units - 2nd Tuesday at 7:00 p.m.
First National Bank of Abilene
4400 Buffalo Gap Road
Suite 2300
Abilene, TX
Snyder Chapter
Daniels Unit - 2nd Thursday at 6:10 a.m., 2:30 p.m. and 6:00 p.m.
Beacon Lodge
Snyder, TX

Breckenridge Chapter
Walker Sayle Unit - 3rd Tuesday at 7:00 p.m.
Larry Hale's house until further notice. Once a permanent place to meet has been decided on we will then add an 11:00 a.m. meeting.

Executive Board - 4th Thursday at 7:30 p.m.
First National Bank of Abilene
4400 Buffalo Gap Road, Suite 2300
Abilene, TX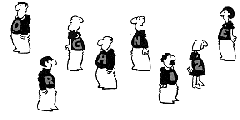 For further information please contact:
or call
915-690-0080


AFSCME
American Federation of State, County and Municipal Employees
Local 3963
4400 Buffalo Gap Road, Suite 2300
Abilene, Texas 79606
(915) 690-0080